GEOCAD intends to provide products and services that meet customer requirements in the most effective and competitive manner. We are committed to the Continuous Improvement and compliance with the legal requirements .
The main goal of GEOCAD is to continually improve in all aspects of business performance. To achieve this goal GEOCAD has:
Responsible professionals, qualified and with great experience in the design and manufacture of injection and compression molds.
Adequate facilities, equipment, documentation and support services.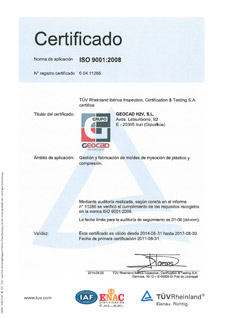 Our job implies quality
GEOCAD has established the following general objectives, which are expanded annually with more specific objectives, established taking into account their impact on Customer Satisfaction and Business Performance:
To obtain and maintain the ISO 9001 certificate.
Adequate facilities, equipment, documentation and support services.
Continually meet or exceed Customer expectations.
Eliminate the causes of possible Nonconformities.
Develop training plans to strengthen human resources.
Advantages of working with us
We give fast and efficient response to the customer.
We are characterized by giving a very close treatment to the client, establishing links that go beyond commercial interest.
We do an exhaustive work monitoring, both in Europe and in Asia, America and Africa.
Our technicians are engineers with more than 20 years of experience in the mold sector.
We have World representation, Europe (Spain and Portugal), Asia (China), America (Mexico) and Africa (Morocco).
We acquire a total commitment in the delivery times of our projects.
We offer a high service level .
Thanks to our long experience we have a deep sector knowledge .
We guarantee responsiveness, experience and reliability.
Check this document if you want to know more about our Quality Policy.: